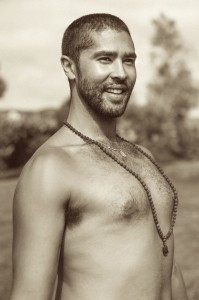 Sterling's love affair with yoga began in the late 90's when he attended his first power yoga class at his local gym in Monterey, CA. His respect for yoga deepened after a 30-day Bikram yoga challenge in 2009 in New York City. He began to notice positive changes in his physical body and a calmer emotional state of being while at work and in his general day-to-day activities. Life proceeded to get in the way, as it often does, and he lost connection to his yoga practice until 2011, when it was reawakened by Coral Brown. Lying in Savasana (final resting pose) in a sea of his own sweat, Sterling felt high on life. In that moment, Sterling knew his calling was to help share this experience with others. He signed up for yoga teacher training with Coral that night and completed her 200-hr Pranaflow Teacher Certification Program in 2012.
As Sterling continued to explore more and more yoga subcultures in the thriving SF Bay Area yoga scene, he experienced his first men's naked yoga (MNY) class with Bryan Harrelson in January of 2013. His heart was anxiously beating out of his chest and his mind was racing so fast at the beginning of class that he could barely comprehend the experience until he arrived in his Virabhadrasana I (warrior 1). There in Virabhadrasana I, for the first time ever, he felt completely comfortable in his own skin. Sterling led his first MNY class in August of 2013. He co-hosted his first Open Body Yoga Retreat with Tim Luddy and Matt Van Horn in July of 2015.
Sterling is currently offering private naked yoga classes at Om Oasis in Monterey, California. For more information about Sterling, please visit sterlingtayloryoga.com.