Pose in a Proud Warrior…Be a Proud Warrior: How to be a Man
by DC Benn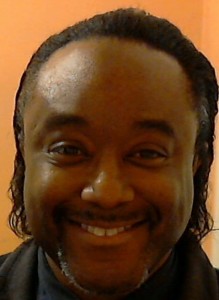 Yoga, for me, not only makes me physically healthy, but afterwards, I feel emotionally calm and serene. Additionally, my internal issues come from my unconscious mind to my conscious one.
When I do physically any of the proud warrior poses, I feel stable, strong, and confident. However, outside of yoga when I look within myself, I do not feel the same way. From my 20s to my 30s, I ignored this issue by being a comedian using vulgar and self-deprecating humor and other unhealthy behaviors and addictions. After the joking and vices could no longer hide this dark truth, I realized that I did not know how to be a man.
From my experiences within the broader society, my family, and the gay world, I unconsciously had the following beliefs about manhood.
Never express feelings except anger and joy
Never tell my problems to anyone except to close relatives who responses were negative most of the time
Never ask for help from anyone
Have lots of sex partners
Be physically well-endowed
Praise from others is necessary to be worthy
Look good to the outside world by having a muscular body, good-looking boyfriend, and a well-paying job
Be healthy to get a man
Do not cry
Be self-reliant about handling any problems
Until my very late thirties, I was unsuccessful to live up to these beliefs and felt less of a man. Consequently, I was depressed and lonely, and was in bad intimate relationships where there were both verbal and (almost) physical abuse and risky behaviors in which I thought that a man could improve my self-worth. As a result, I could not keep jobs, became an addict, and attempted suicide several times.
After my last suicide attempt, from attending therapy and 12-step programs, I trusted my guts both when there were situations that would make me most likely to return to my addictions and when I would be in a new experience where I did not know the outcome. During that time, I realized that I could not follow the same beliefs about manhood as I did in the past. Nevertheless, I did not know with what to replace my old beliefs of manhood.
When I was forty years old and moved to San Francisco, I started doing yoga and experienced–especially from meditation and savasasana-its positive physical and mental effects within me. However, from that practice, I still did not know what beliefs of manhood I can have to have a prosperous life. In other words, I knew what NOT to do but did not know what TO DO. Being afraid to tell others-especially men-that I did not know what it meant to be a man, I feared rejection and potential accusations of being mentally deranged and less masculine. Hence, in social situations, I still used crass and self-deprecating humor to hide these fears.
One day as I was walking on Market Street, I saw an ad for a workshop sponsored by Mankind Pride (MKPr), the GBTQ organization under the Mankind Project (MKP). My guts automatically told me to attend this workshop. The purpose of this workshop was to give me an idea what the New Warriors Training Adventure (NWTA) weekend in which I was told that I would be a different man afterwards. After this workshop, I knew something different was happening to me, but I could not figure it out. Nevertheless, with this unique, vague feeling within me, I attended the GBTQ NWTA weekend.
After attending the weekend, I started developing a new view of manhood.
Ability to express myself freely in appropriate situations
Courageous to ask for help
The goal of sex to be emotionally and mentally healing along with the physical aspect with a significant other
Having the courage to look at my vices and to accept them
Self-confidence without looking for society's acceptance
Enhanced my sobriety from my addictions especially when coping with issues and shortcomings
Be healthy so that I can have happiness and purpose in my life
Having the support of other men who were also dealing with developing a new sense of manhood in their lives\
Since that weekend, I knew that I was not the same man as I was before that weekend. I started to develop these views from NWTA and incorporating them in my life. From having a good model of manhood, I had the courage to ask men to help me find a new ways of seeing manhood. As a result, my self-esteem and self-worth improved, and I have purpose in my life. I now feel the stability, strength, and confidence within myself before, during, and after yoga class.
According to a recent e-mail by Darren Main, the founder of Naked Yoga SF for men, dated April 15, 2014, "[t]he practice of yoga is really the practice of liberating one's mind…We no longer need to be enslave to our habits and patterns. Through practices like meditation and yoga, we can rise about the apparent darkness in our lives." From doing yoga, I have looked into to darkness of my life and have opened myself up physically, emotionally, spiritually, and psychologically to unique, realistic positive ways to handle my life-especially when there are difficulties. When I pose for those proud warrior asanas, not only do I feel the physical and mental benefits, but it reminds that I have those benefits within me at all times. I can now say that I AM A PROUD WARRIOR.
Information about MKP: http://mankindproject.org/
Information about MKPr: http://mankindpride.com/