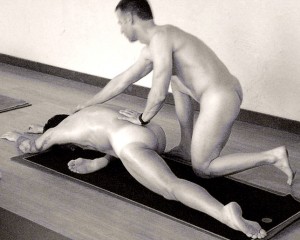 Ken has practiced yoga for over 10 years and became certified with Yoga Alliance as a RYT-200 after graduating from Yoga Tree's YogaTeacher Training program in 2006. Yoga Alliance has recognized him as a ERYT-200/RYT-500 as he completed his Yoga Therapy training at Ananda Seva Mission in July 2010.
Ken has been leading a Naked Men's class here at the SUN ROOM since 2007.  Ken  teaches Naked Men's Yoga on Sundays at 6:00pm.  Ken's Vinyasa Flow class is for all levels!
In his classes, Ken provides eclectic Non-denominational Hatha yoga guidance, honoring a variety of traditions, such as Iyengar alignment principles, invigorating Kudalini Kriya, and playful Acroyoga-inspired partner work. He invites you to embrace SIMPLICITY, PATIENCE and COMPASSION as you deepen your practice and your connection with your true Self.
Ken offers Yoga Therapy workshops on a variety of topics such as restorative yoga, grief, relationships, stress management and coping with chronic illness. In addition to yoga, Ken also serves as a Licensed Clinical Social Worker, psychotherapist and clinical supervisor.  Many of his workshops can be counted towards Continuing Education contact hours for Nurses, LCSWs and MFTs.
Daniel Quinn and Paulo Coelho are among his favorite authors.
Please visit Ken's website at www.kenbreniman.com or email him at kjbreniman@gmail.com